Aussie Sci-Fi author Mark R. Healy
Mark Healy has several popular SF series under his belt, notably The Reach and Distant Suns…
---
1.  Tell us about your saga 'The Reach'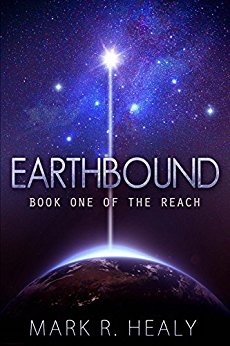 The Reach is my second series and was published in 2015.  It tells the story of a man called Knile Oberend who is battling to escape a polluted, ruinous Earth where there is little hope of survival for those who remain.  The only problem is that there's only one way to make it to the utopian outer colonies – the last remaining space elevator that sits atop the massive structure known as 'The Reach'.  So it's part post-apocalyptic thriller and part sci-fi adventure.
The series has lots of twists and turns and a relentless pace, and I have to say it was a lot of fun to write.
2.  What is your latest book?


My latest book just came out this month.  It's called 'Eclipse of Procyon' and is the second volume in my 'Distant Suns' series.  This series is a space opera but instead of dealing with the military aspect of an interstellar war, the focus is on a mechanic named Landry Stanton who becomes shipwrecked on a remote outpost planet.  Landry finds that he is marooned with an alien creature – an Argoni – and soon learns that the creature may be the key to turning the tide of war in Earth's favour.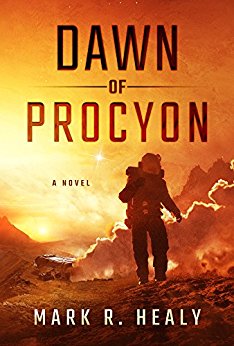 3. It's great to see an Australian SF writer be so successful, does Australia feature much in your work or influence your writing?


I wouldn't say I've been hugely successful yet!  Like most authors I've battled away for years on end without much success, and I'm only now just catching a few breaks.  But I still have long way to go to reach my goal of making a living from writing.


Australia definitely influences my writing, especially in terms of setting.  For example, my first series 'The Silent Earth' is set in a post-nuclear winter Australia, and features many vivid descriptions of desolate wastelands that were inspired by the dustbowls of central and western Queensland.  I lived out there for a while and the imagery is still very strong in my mind.  Although I create fictitious names for towns and cities and never specify the location, it is definitely Aussie through and through.
4. Which authors do you enjoy reading?


I grew up in a small town in the Brisbane Valley and our library only stocked the classics when it came to sci-fi – Clarke, Asimov, Heinlein, Simak and the like.  I really cut my teeth on those authors and I still love them to this day.  I'm also a huge fan of George RR Martin, Stephen King and Neal Stephenson.  On the local front I like Ian Irvine and Juliet Marillier amongst others.
5.  Did you grow up reading Science Fiction?  Were you a Star Wars kid?


The first novels I read were the Narnia series when I was eleven.  That really whet my appetite for more, and after that I read Tolkien and Anne Mccaffrey's Pern books before moving onto the aforementioned sci-fi classics.


Definitely a Star Wars kid!  I was born in the mid 70s so I was just the right age to catch the Star Wars wave.  The first action figure my parents bought me was Greedo and so he's still one of my favourite characters.  I'm still waiting for the Greedo spin-off movies actually, set before he was callously murdered by Han Solo.  And Han definitely shot first!
6. What are you writing at the moment?


I'm currently juggling my time between another 'Distant Suns' book and a new cyberpunk series I'm writing called 'The Grid'.  I don't normally write multiple series' concurrently, but the editing process for 'Eclipse of Procyon' went on for a number of months as my publisher sorted out the schedule, so that left me with some spare time on my hands.  So it looks like I have a busy 2017 coming up!