Robert J Sawyer interview
Robert J. Sawyer is a Canadian Science Fiction writer who has been at it for a long time, winning both the Hugo and Nebula awards along the way.  He answered a few questions exclusivity for SF-Books.com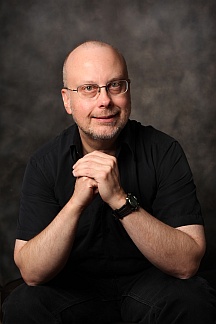 You embraced the internet pretty early with your website going live in 1995.  How did that come about at a time long before most people had even hard of the Internet?
Yes, I was lucky enough – or prescient enough – to be the first science-fiction writer in the world and the first Canadian author of any type to have a website.  I'd been an early adopter of the online world, back when the Internet was only accessible really through university computer-science departments.  A friend of mine who was studying the then-nascent field of computer graphics at the University of Toronto managed to snag me an account in 1984.
By 1986, I was heavily involved with CompuServe, an early dial-up online service, so much so that within a few years the command "Go Sawyer" would take you to CompuServe Science Fiction and Fantasy Literature forum.
I'd also become one of the sysops – system operators, or administrators and discussion leaders – of CompuServe's forum devoted to WordStar, the word processing program I used then and still use now.  I made such an impact there that the president of WordStar International invited me to convene a group of power users called the WordStar Advisory Board, and we flew in a couple of times to California as deep insiders helping shape the development of the software.
So when it became possible for individuals to start having webpages in 1995, I was well primed to understand the power of the online world and immediately jumped on board, securing the domain name sfwriter.com.
Three things were important to me in setting up my website: First, I felt it should have free fiction, something unheard of at the time; I was the first writer to start giving away full-text stories online for free.  Second, I felt it should have great depth of content, and very quickly my site grew to have over one million words of text spread over some 800 documents.  I didn't want it to be a mere marketing blip, but a destination.  And third, I wanted it to have a very easy-on-the-eyes minimalist design so that people could comfortably spend hours reading text on screen there.
Tell us about your latest book.
Quantum Night is my twenty-third novel.  I create my novels in a top-down approach, from topic to theme to character, so let me introduce the book that way.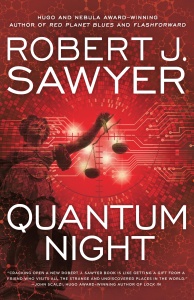 For my topic I chose evil, something frequently written about in fantasy where it's treated as an elemental force or actually personified, but rarely if ever has been explored rationally and plausibly in science fiction.
The theme that resonated with me after spending a year researching the science of evil — in neuroscience, experimental psychology, evolutionary psychology, sociology, political science, and game theory, among other areas — was this: the most pernicious lie humanity has ever told itself is that you can't change human nature.
That led me to my character, Professor James Marchuk, an experimental psychologist at the University of Manitoba, in Winnipeg, Canada, who discovers to his shock that he has no memories of six months of his life from twenty years in the past, when he himself had been a student in psychology and had been a subject in an unethical psychology experiment, and had perhaps done profoundly evil and even psychopathic things then.
As in all my novels, I try to combine real-world concerns, cutting-edge science, and all-too-human characters.  Quantum Night has been a top-ten national mainstream bestseller here in Canada, and hit number one on the hardcover bestsellers list published in Locus, the US trade journal of the science-fiction and fantasy fields.  Quantum Night is just out now in paperback from Ace in the US and Penguin in Canada.
 You have won both the Hugo & Nebula awards. That must be the ultimate validation for a science fiction writer?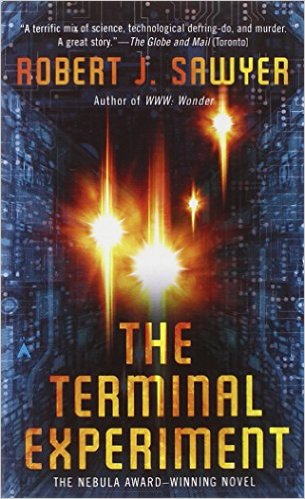 For me, purely because I won it first, my Nebula Award, which is the SF field's equivalent of the Oscar, given by one's professional peers, had a much bigger impact.  I won it in 1996 for my novel The Terminal Experiment, about a biomedical engineer who discover scientific proof for the existence of the human soul.
My first novel had only come out five and a half  years previously, and my editor at the time said I'd gone overnight, thanks to that award win, from being a promising newcomer to a bankable establish name.  He was right: after struggling economically, my income from fiction writing soared into the six figures and has never dipped below since, my books started being widely translated – they're in 20 languages now – and Hollywood started taking interest in my work.
 Tell us about your influences. Who do you enjoy reading?
The biggest influences on me were Arthur C. Clarke and Frederik Pohl.  Clarke taught me that you could write in a scientific and yet lyrical way about issues normally considered too metaphysical for rational discourse.  Pohl, especially with his novel Gateway, taught me that your protagonist doesn't necessarily have to be likable or a hero but merely nuanced and believable.  I was fortunate enough to learn that lesson from Pohl early on; you can see in television that TV writers have now finally caught up with what Fred knew in the 1970s.
As for who I enjoy reading, you can't go wrong with Jack McDevitt, Kim Stanley Robinson, or Robert Charles Wilson.  Among new authors, I was mightily impressed by some recent debuts: Gerald Brandt's The Courier, Sylvain Neuvel's Sleeping Giants, and Marguerite Reed's Archangel – which, despite its cover, is a fabulous hard SF novel.
 Did you grow up reading SF/Fantasy or did you find it later in life?
I was born in 1960 and started out watching science-fiction television in the 1960s, including The Twilight Zone, the original Star Trek, and, God help me, even Lost in Space, plus the British Fireball XL5 and Thunderbirds.
It was my father who introduced me to print science fiction when he sent me off to summer camp when I was twelve.  He figured I should have some books to take with me and knowing nothing about science fiction but understanding that I liked it on TV, went to our local bookstore and found a title by Isaac Asimov, a name he knew and respected from his nonfiction, and a first novel by a guy named David Gerrold who he knew was associated with Star Trek.
The Asimov was The Rest of the Robots – the British second collection of his robot stories – and the Gerrold was Space Skimmer, still a book I fondly and vividly remember.  I was hooked – and I'm so, so thrilled that David Gerrold and I have become great friends today.
 Tell us about a typical writing day for you.
Not only do I not have one, I never wanted one.  The joy of being self-employed, and why I made so many economic sacrifices to be that starting when I was just twenty-three years old, was to not have a typical day.  I want every day to be different, and therefore individually memorable.
Yesterday, as an example, was the kind of dramatic and sexy life that people fantasize authors have: I started the day with a half-hour in studio radio interview about Quantum Night; was taken to lunch at the exclusive Soho House private club, where I was wined and dined by a producer who wants to option rights to one of my trilogies; then went to a meeting for a science-fiction TV series I'm developing for one of Canada's major broadcasters.
Today, on the other hand, I'm eating leftover pizza, cleaning my home, doing a little research reading, catching up on email, and, oh yeah, hopefully getting some writing in.
And tomorrow?  Off to Boston for a science-fiction convention.
 What are you working on next?
I've just started my twenty-fourth novel, which has no real title yet but but does have a code name:  Tube Alloys.  That, in itself, was a code name, for the British precursor to The Manhattan Project.  I want every book to be a new challenge for me, and this one will feature large numbers of actual people from history.  In the past, I've made up my characters, but this will be new for me: writing extensively from the point-of-view of well known historic figures, and I'm having, if you'll forgive the Manhattan Project pun, a blast.
Robert's site is at http://sfwriter.com/